John Makay - Presque Maudit - Frayssgââl
jun 23, 2013
John Makay - fr
Duo instrumental guitare/batterie. Du math-rock version univers épique.
Actifs depuis 2005, ils continuent encore et toujours à propager leurs vibrations et leur passion de l'underground.
johnmakay.bandcamp.com

Presque Maudit - fr
Quand le batteur de Grand Prédateur et les deux gaillards de Marylin-Rambo s'additionnent pour former un tout nouveau groupe cela donne Presque Maudit. Du noise rock un brin expérimental et métal.
presquemaudit.blogspot.fr

Frayssgââl - fr
En 2011, deux amis se croisent dans une salle de répète.
«frayssgââl» émerge alors des profondeurs de l'Aveyron. Basse, guitare, batterie synthé et chant pour un aller simple dans un univers rocky, poppy, punky varièt.

au zoo - usine - genève

flyer by thomas perrodin
koonda holaa + brunosphere
may 16, 2013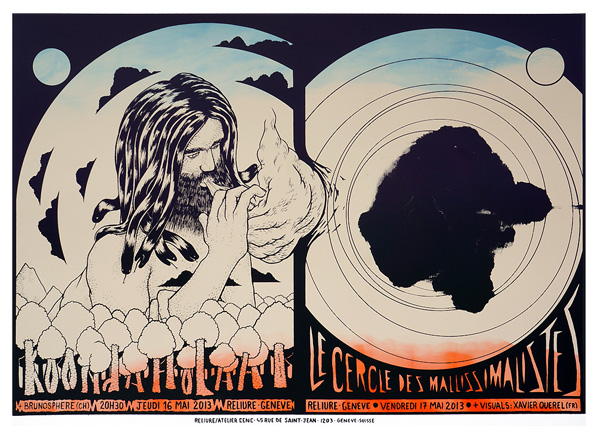 koonda holaa - cz/us
legendary one cosmonaut band free bluescore

Kamilsky was born in 1969 in Czechoslovakia. He began playing in F.P.B as a teen (then and now one of the most original and infamous punk rock underground bands the Czech music scene produced in the 80's), and therefore spent two years in jail. He left Germany and started Pseudo Pseudo, a bass & drums duo precursor of math rock formations. In 1992, he emigrated to California. In 1995 he played with the Residents as bassist on the Freak Show tour. Since then he accumulated many collaborations with Steve Mackay (Stooges sax), Mike Watt, Lydia Lunch, Bastard Noise, Amps For Christ, Sikhara, Už Jsme Doma.

free album : koonda holaa - 10 acres of the finest sand
koonda holla - i came to this country
koonda holla & the beetches - vulva with revolver

brunosphere - ch
electronic and strings solo
www.darksite.ch/brunosphere


at la reliure - atelier CENC, rue de saint-jean 45, 1203 geneva

silkscreen by thomas perrodin
batalj + krodelabestiole
mars 26, 2013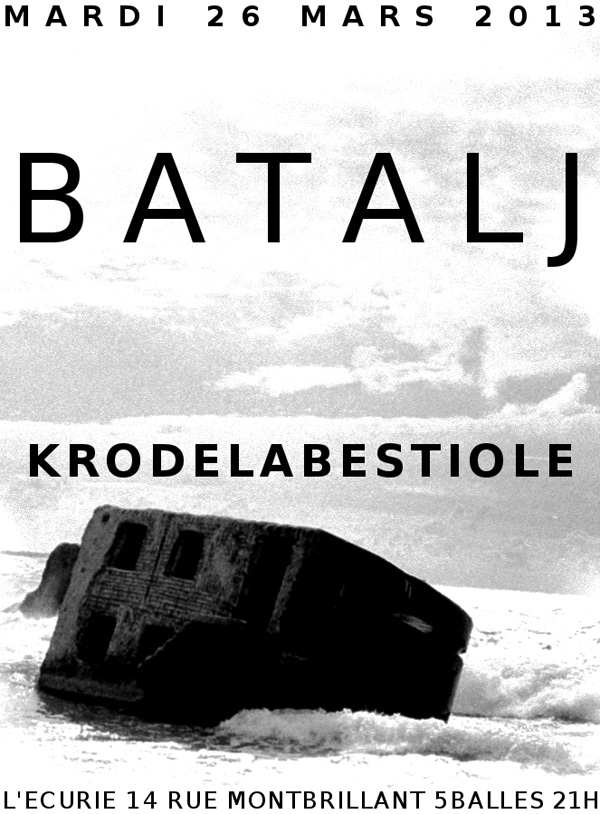 batalj - berlin
experimetal crust massacre
batalj.bandcamp.com
batalj.tk
soundcloud.com/batalj

krodelabestiole

Wildrfid DJs - jura
http://www.wildrfid.net


at l'écurie, rue montbrillant 14, geneva
Schotch Egg + Koyxen + C_C + KroDeLaBestioLe
nov 9, 2012
Small But Hard night at delémont !
http://www.small-but-hard.com


DJ Scotch Bonnet aka Sctoch Egg - japan
dope distorted bass & beats

Koyxen - japan

C_C - paris
heavy noisy beats

krodelabestiole

Wildrfid DJs - jura
http://www.wildrfid.net


SAS - 23 rue du 23 juin - delémont
silkscreen by thomas perrodin
AUN [sic] Fujako
oct 28, 2012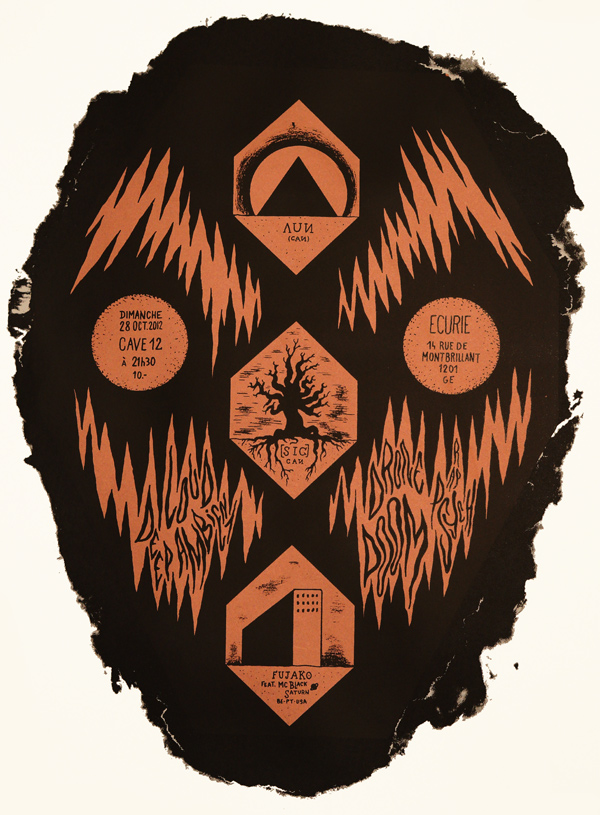 AUN - canada
doom drone
http://www.denovali.com/aun

[sic] - canada
jen morris - ambient, noise
http://squirrelgirl.com/spip.php?rubrique10

Fujako feat MC Black Saturn - belgium / portugal / usa
dirty industrial hip-hop
http://www.wordsound.com/catalog/WSDD012.html
http://soundcloud.com/fujako


more : http://www.cave12.org/AUN-sic-FUJAKO-feat-MC-Black


at l'écurie, rue montbrillant 14, geneva

silkscreen by thomas perrodin
du crabe au ruclon
sep 14, 2012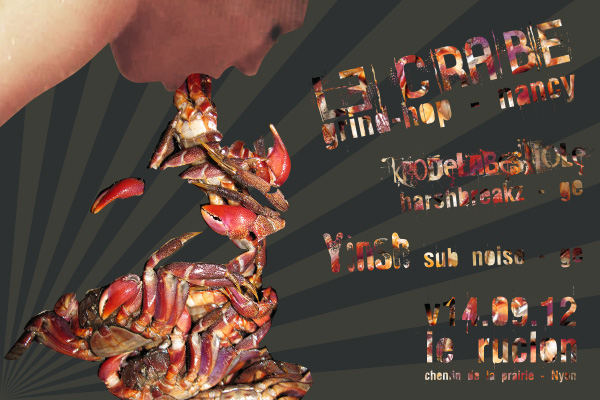 3 livesets pour se vautrer dans la boue de punk ce vendredi au ruclon !

le crabe - nancy
grind-hop enragé
soundcloud.com/lecrabe

krodelabestiole - ge
harshbreakz dronecore

yinsh - ge
angst disco / sub noise
www.audioactivity.net/new/artists.html

$uicide note$ & autistic free stylers - geneva
aug 18, 2012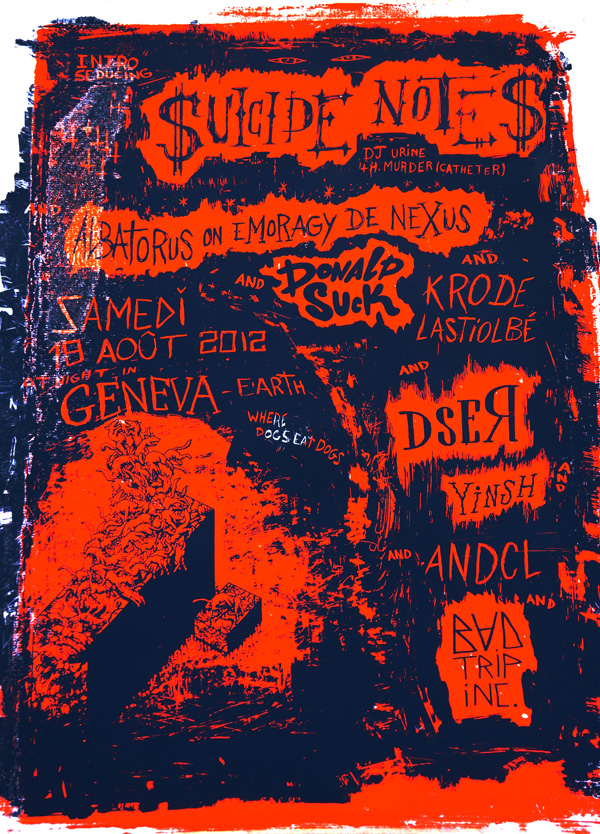 $uicide Note$ - fr/us
composé de l'inénarrable terroriste turntablist parisien dj urine et du batteur de catheter, le groupe buldogrind le plus brutal que les états unis d'amérique aient régurgité un matin de gueule de bois, un set d'une violence inouïe en perspective

Dj Urine is also co-worker of Otto Von Schirach, The Locust, Saul Williams, Aneka Digital Safari, Shoah, Cx Kidtronik, Ramunas Jaras, Rully Shabara Herman, Nine Owls In A Baguette, Cheezface, Qrixs Martinez, Dino Felipe, Proletar, Orgasm Denial, KK Null and mores ...
cargocollective.com/djurine

Catheter was originally vomited upon the earth in 1997 in the form of a crustcore band with metal influences as heard on the first demo tape "Drinking With the Devil".
http://www.myspace.com/catheter


AlbatOrus oN ÉmoragY dÉ XeNuS - fr/de
"ExperimentAlChimiK-BreakZzz Scares-SpudCorp-SymphoNoise" or "Franc-Maso-Noise" Avec qlqs pointes GregorGrind DigitaL si le smooth s'enGrenge....Or "DoRéMiFaSolACIDohOHOh-ReKoreDrillLLlZzzz"......Too Much,can't in others ways....Sino en spèctre érrant if prints are........++
soundcloud.com/horusdelim-le


donald suck (feat. bruno)
musique brute
www.zamzamrec.org/Donald%20Suck.html

dser
harsh and bass
http://music.dser.org

yinch
full of mental distress music/anxious disco sub noise
www.audioactivity.net/new/artists.html


romain hamard aka andcl
hypnosis & electronica
soundcloud.com/andcl


krodelastilobé
dj set - atelier de zoophilie appliquée


bad trip inc
dj set - ne résiste pas, accompagne
www.wildrfid.net


yann is the bastard & gugayagé
incantatif industrial gabba

free freak party, prix libre, lieu à déterminer

silkscreen by thomas perrodin
aiuto mini tour - paris, amiens, bruxelles
feb 19, 2011 to feb 26, 2011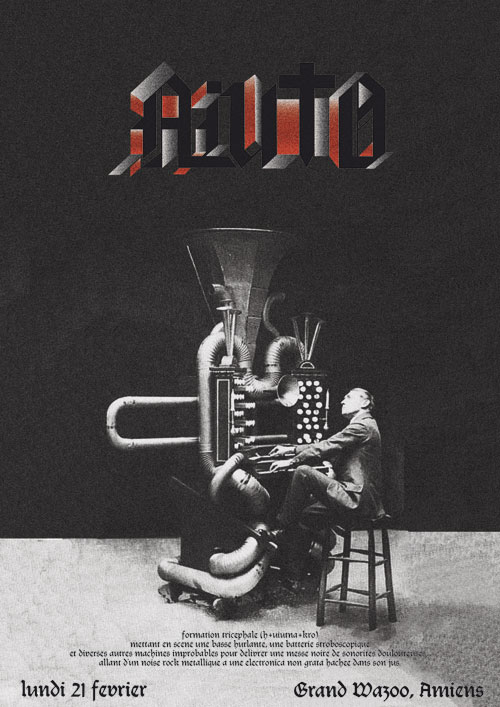 we will perform aiuto on feb 19th in paris, with jessica 93, meurtre and gouffre d'un pôle à l'autre (aka poporc and unas)
then on 21st at amiens, grand wazoo bar
and on 26th with gulantropofagia at bruxelles, obsessions intimes
20h each time, i guess

kickass poster by kuny
cabaret brutal
jan 28, 2011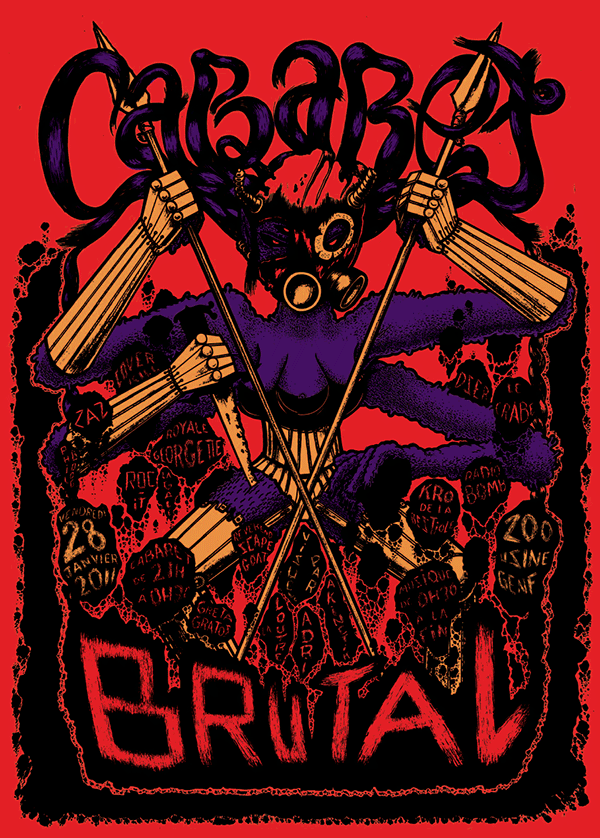 cabaret from 21h to 00h30
mc lagale
rap / ch
roc-it
fakir / de
philboog
hip-hop / fr
greta gratos
et ses fees / ch
coverkill
death metal
reverend scape goat
scarification
royal georgette
costumes
zaz
pyrotechnie azucena fabbri / ita

music from 00h30 to the end
kro de la bestiole fr
le crabe fr
radio bomb uk
dser ch
vjing by : la loutre - zoo crew / ch | adri / es | akinetik - zoo crew / ch
geneva zoo / usine 4 place des volontaires
1400 points de suture, the somnambulist - geneva
oct 16, 2010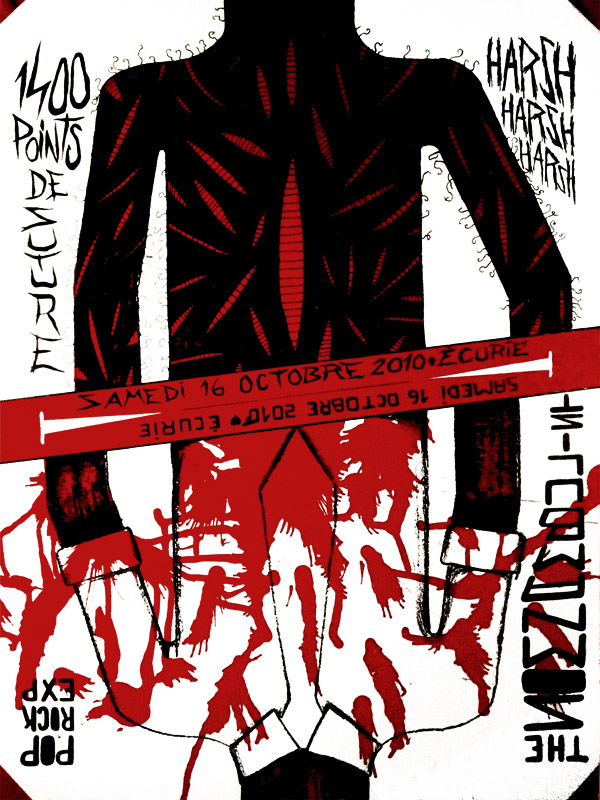 "IL", qui autrefois rota le temps, rendit l'espace, expectora l'humanité et, dans un vent final et inspiré, lui donna la parole... "IL" au nom duquel chaque être palpitant de vie frémit et se racornit, se racrapote et succombe car on n'entend pas le NOM sans payer de sa jeunesse et de sa santé... "IL" entend reprendre ses jouets sur le Grand Échiquier du Monde pour les casser en zilliards de zilliards de petits atomes fins. Du 07 au 19 octobre, partout par-devers le Grand-Échiquier du Monde. Surveille les dates où te sera offerte la possibilité de lever la croupe devant son palpiducte reproducteur et crains sa tendresse cruelle et finale, frémis à l'idée de son câlin revêche et aphtogène. Accueille en tes viscères la vie nouvelle amenée à remplacer celle, médiocre, qui se débat stupidement dans le marasme de sa hideur de création imparfaite. TU PUERAS.
the somnambulist - (pop rock, xp) de
www.hotelambiente.org
1400 points de suture - (evilest funky blastcore) fr
i don't link mysprout out there but you may and should find this band pages somewhere on the web...

at l'écurie, rue montbrillant 14, geneva

silkscreen by thomas perrodin
necro flesh eaters - geneva
may 29, 2010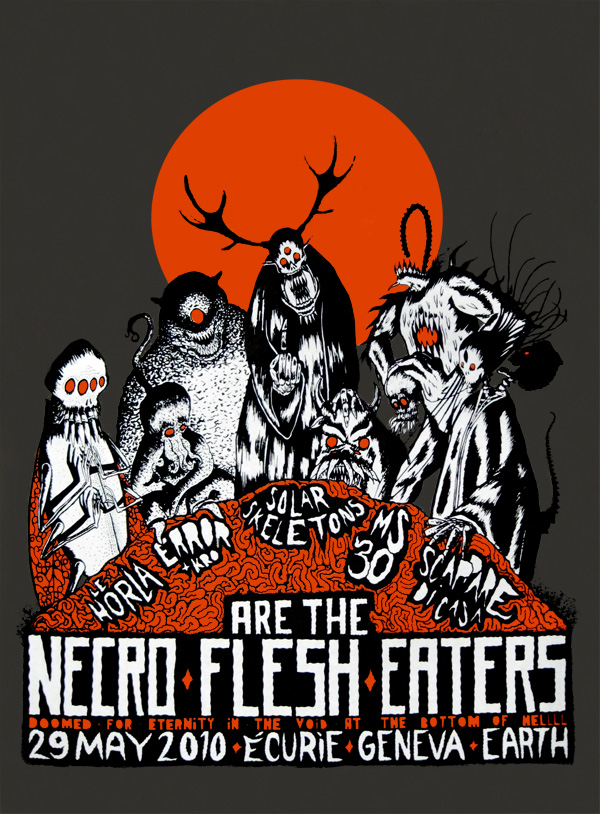 im bringing some black messiah here in geneva :

scappare di casa - (electronica / sampler, objects) ch
www.dasandereselbst.org
error - (unreleasable electro) fr
unrelease.autiste.org
ms30 - (guts frequencies) be
http://a.detapol.free.fr www.nightonearth.info
solar skeletons - (redneck industrial dirty blues) be
www.solarskeletons.com
+ le horla (electro oldies mix) ch

at l'écurie, rue montbrillant 14, geneva

silkscreen from hell by thomas perrodin
binz - zurich
may 22, 2010
we gonna move to zurich on saturday to this beautiful place : binz.
aiuto, tleesioivn, akinetik, yinsh and das alptraumtheatre.
cannibal caniche festival - berlin
april 29 to May 2, 2010
awesome festival in berlin !
watchout :
Anton Mobin vs Dincise (electro-acoustic free improvisation)
Kro de la Bestiole (bugged TV performance)
RYBN (audiovisual noise)
Yann Hekate (experimental hiphop / downtempo)
Rinus van Alebeek vs Tzii (tapes manipulation)
Mental D-struction (ambiant atmospheric speedcore)
Kirdec (experimental breaks / field recordings)
Dasha Rush (downtempo/electronica)
Unas (8bit grindcore micropunkerotic show)
Marshall Reptilos (prophetic absynth primitive music)
Sim on Korfunkle (holygabber)
Dawamesk (darkambiant)
El Gusano Rojo (exp-noise)
Line Destruction (exp-ambiant-noise)
Company Fuck (Noise Karaoke)
Niedrowierzanie (drone improvisation with doublebass)
Christoph Fringeli (exp break djset)
Monsieur Connard (electronica/exp hiphop)
Christoph de Babalon (atmospheric dark breakcore)
1400 points de suture (zombie country from hell)
Error (oldskool electro)
Paroxysm of Anxiety (ritual darkambiant)
Bombyx (ambiantpostindustrialspeedcore with guitar)
Manécante (exp-noise-ambiant)
Lain (fondue-speedcore)
GVK (industrial break/hiphop)
Electric Kettle (breakcore)
Nomex (ritual/noise/break)
Hecate & Yann Keller (freaky industrial-break)
Charlie Sensation (coldwave/electronica)
isAAAk (amiga destruction)
Mr. Honk (scrape your teeths on the floor)
Syd (exp djset)
Vendredi (industrial bootybass)
ThTh (nerdy noises)
Psykopal (chiptunes dancefloor)
Planetaldol (brokensubmarine ambiant)
South Korea Industry (industrial-noise performance)
Julien Millot (i burn my hairs performance)
D-Phaz (exp downtemp)
and more...

live visuals by:
Vidio Atak // Sans Culotte // sergio, manuella et lorenzo // Vendredi // mysh3l // Akinetik // D-Phaz // Qeve

Decoration and Exhibition by:
Gorellaume // Vendredi // Myshel // Djemija // Kuny // La Plèvre // Nostyle Fuckers

Speech about free music / open source software with:
Christoph fringeli // Tzii // Qeve

D.I.Y. Analog synth creation workshop (2 days) by Julien Millot

After and Frühstuck Sunday..

i think i gonna play some stuff in a church.
i don't know what stuff yet, might be some electronic ukulele...

satanic poster by dave 2000
electro circus - geneva
march 14, 2010
i'll be performing at electro circus festival in geneva on sunday.
i will try to build an interactive rope performance with subliminal gravity crew.

great poster by thomas perrodin